Tell us what you think…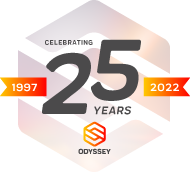 Odyssey 25th Anniversary Celebrations
Over the past six months, Odyssey has been celebrating our 25th anniversary! Over 550 people attended events across eight of our geographic locations to celebrate this fantastic achievement. A company's culture comes from its employees, and these celebrations proved that Odyssey has some of the best employees that this industry has to offer. Here's to another 25 years!
Colorado Springs, Colorado
Dayton, Ohio
National Capital Region
Fairfax / Newport News, Virginia
San Diego, California
Wakefield—Corporate Headquarters
Clinical Investigation Department at the Naval Medical Center San Diego Hosts a Research Day Event
The event was superhero-themed and promoted all of the services CID has to offer, as well as research awareness throughout the Command. There were games and prizes, and the Clinical Research Associates (CRAs) hosted a table. We spoke about the services we offer as CRAs, such as electronic Institutional Review Board (eIRB) submission assistance, and help with enrollment and data collection.
Highlighted are Odyssey Employees Keya Bandyopadhyay, Ashley Hughey, and Natalie Hall.
NAMRU-D Picnic
Naval Medical Research Unit Dayton (NAMRU-D) hosted a picnic on August 12th at Indian Riffle Park in Kettering, OH. There were games and a playground for the kids, and food and festivities were enjoyed by all!
Joining in the fun were Odyssey Employees Jane Lovett, Christy Sintz, and Gabrielle Singer.
Odyssey Attends The AFCEA Social
Erin Donlan (Schubmehl), Director of Odyssey's C3&N Divisions, and Miranda Tofalo, Program Coordinator, C3&N Divisions, attended AFCEA's Summer Social. During the event, Matthew Kasberg, Odyssey Chief Operating Officer, was thanked for serving as the Lexington Concord Chapter Treasurer for the last six year and it was announced that Erin will be the next 1st Vice President of the Chapter. Congratulations Erin!
Odyssey Sponsorship at Annual IMAGE Golf Tournament

IMAGE provides an opportunity for the military and industry to have some fun and play a round of golf for a great cause. Rocky Mountain Chapters of the Air Force Association (AFA), National Defense Industrial Association (NDIA), and the Armed Forces Communications Electronics Association (AFCEA) all work together to raise money for science, technology, engineering, and math (STEM) scholarships and related activities. At the tournament, Odyssey was represented by Kenn Henderson, Myke Garrity, Richard Fletcher, Glenn Winchell, Mike Haefner, and Howard Gentry.
Labor Day Liftoff!
Lisa Hanselman and Ed Tarala Jr from the Space and Missile Defense Group were awarded VIP passes to Colorado Springs Labor Day Liftoff event—they had access to the VIP tent for all three days of the event, and a balloon ride during the mass Labor Day Lift Off!
Lisa and Ed were selected from a pool of 32 employees who were nominated by their peers to attend the event. Odyssey Leadership was impressed with the level of employee effort put into the nominations, and with how excellent the nominations were. From the selection committee there were many comments similar to "I don't know how you can only select two from this pool of candidates?" and "great group of write-ups". This is a testament to the care and respect Odyssey employees have for one another and to the great people we have supporting customers on a daily basis.
Thank you to Jaime Socotch for suggesting and securing the tickets for this event, and to Catherine Emond for running the nomination competition that allowed us to recognize these deserving Odyssey employees!
Members of the MECS Team Kayaking Colorado Mountain Lakes
So far this year the group has kayaked nine Colorado lakes above 9,000 feet in elevation, with three more planned. This is in addition to paddling many low elevation lakes (at or below 7,000 feet). The photo included was taken at Rampart Reservoir with the north slope of Pikes Peak in the background.
Coming in October: The Odyssey Core Values Award!
Odyssey is excited to introduce our very first corporate Core Values Award. We've developed this opportunity as a way to celebrate the people who live our values every day by exemplifying Odyssey's three core values: Respect, Commitment, and Ambition. Keep a look out for more info to come!