Odyssey Celebrates 25 years!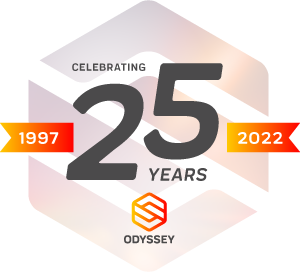 The ride hasn't been without an occasional speed bump, but we're proud of what the company has become and achieved.
When Mike Prisco and Mike Sweat started Odyssey, they believed that there was a better way to do business. As former Government employees, they had been customers of existing advisory and assistance service (A&AS) companies; that turned out to be an advantage.
They committed to three ideas:
Provide the best available talent
Be more connected to clients
Make it easy for our team partners to do business with us.
These ideals fueled growth, and are relevant to–and apparent in–Odyssey's success today.
Odyssey Timeline
Significant events that have helped make Odyssey what it is today…
Sorry,You have not added any story yet