COVID-19 Support
Odyssey is a leading provider of management, analytical, and technical support services for government and private-sector customers. Established in 1997, Odyssey delivers innovative solutions in response to your complex and challenging requirements.
COVID-19 Support
Odyssey provides non-personal services, staffing, and support for federal government medical research. With the challenge the world faces with the COVID-19 pandemic we want to you help forge the path forward to better understanding and control of the virus.
Our collaborative partnering approach and established strategic relationships with specialized partners, clinical research organizations, and research foundations across the medical research and development community help us provide valuable support to our customers, including procurement, fielding, and sustainment. We look forward to speaking to you about how we can work together to make the world healthier.
COVID-19: Odyssey Capabilities
Scientific Staffing
We can support your project by recruit and retain highly qualified scientific and medical personnel with infectious disease subject matter expertise. We can also source personnel for associated laboratory support services, biomedical research, and biostatistical, biometric and data analysis.
Program/Project Management
We can provide program/project oversight to ensure product lifecycle milestones are achieved within scope, on time, and within cost constraints.
Product Research and Development
We can support non-traditional government contractors who have products to combat COVID-19 but may not have the infrastructure in place to support the requirements of a government contract.
Product Pipeline
We can work with your research teams to map outcomes and plan future research pipelines to move products and solutions into the next phase of advanced development (enhancing capability and prepping for technology transfer).
Acquisition/Logistics Support
We can support medical acquisition planning and associated logistics support for future outbreak/pandemic preparedness.
Information Systems
We can provide software development, cloud hosting, project portals, and application systems support.
Trusted Partners
We have trusted relationships with small and large business partners who qualify as Contract Research Organizations (CROs) Service-Disabled, Veteran-Owned, or Woman-Owned, as well as 8a and non-profit foundations.
Contract Management
We offer 20+ years of experience successfully managing Government contracts and task orders to meet and exceed customer expectations.
Tonya Torgeson, PMP, CSM
Director, Strategic Capture/Medical R&D
619.253.8465
tonyatorgeson@odysseyconsult.dev
Edie Druktenis, PMP
Manager, Medical Portfolio
571.351.8045
edithdruktenis@odysseyconsult.dev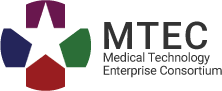 Odyssey is a member of the
Medical Technology Enterprise Consortium.