Customers
Odyssey provides solutions to a wide range of customers, including:
Customers
Odyssey provides solutions to a wide range of customers, including:
DEPARTMENT OF DEFENSE
U.S. Air Force
One of six centers under Air Force Materiel Command, the AFLCMC is the single center responsible for total life cycle management of Air Force weapon systems.
Digital Directorate (HB)
Fighters/Bombers Directorate F-15 Division
ISR & Special Operations Forces (SOF) Directorate (WI)
Armament Directorate (EB)
Armament Sustainment Division (EBW)
Joint Service System Management Office (WNY)
Engineering Directorate (EN-EZ)
Propulsion Directorate (LP)
Systems Integration Division (A4N)
Commanders Action Group (CCX)
Contracting Directorate (PK)
Intelligence Directorate (IN)
88th Air Base Wing (88 ABW)
Plans & Programs/Cyber & Analysis Directorate (XP-OZ)
National Guard Bureau (NGB)

Organizes, trains, and equips combat-ready Airmen to control and exploit the Air, Space, and Cyberspace.
Tactical Data Link Operations and Management Organization (TDLOMO)
Joint Terminal Attack Controller (JTAC) Academics Currency Training System (A2JACTS)
Cyber Security/Information Assurance (CS/IA)

As the air component for both U.S. European Command (USEUCOM) and U.S. Africa Command (USAFRICOM), USAFE-AFAFRICA executes the Air Force, EUCOM, and AFRICOM missions with forward-based airpower and infrastructure to conduct and enable theater and global operations.

DEPARTMENT OF DEFENSE
U.S. Space Force
A subordinate unit of U.S. Space Force, SSC is the center of technical excellence for developing, acquiring, fielding and sustaining military space systems. SSC's mission is to deliver resilient and affordable space capabilities. The center is responsible for on-orbit check-out, testing, sustainment and maintenance of military satellite constellations and other Department of Defense space systems.
Strategic Warning and Surveillance Systems Division (SZQ)
Military Satellite Communications (MILSATCOM) Systems Directorate (MC)
Ground-Based Space Surveillance Division (SZG)
Range and Network Systems Division (RN)
Missile Warning/Missile Defense (MW/WD)
Position Navigation and Timing (PNT)
Air Expeditionary Force (AEF)

DEPARTMENT OF DEFENSE
U.S. Army
Conducts space and missile defense operations and provides planning, integration, control and coordination of Army forces and capabilities in support of U.S. Strategic Command missions (strategic deterrence, integrated missile defense, and space operations).

Provide policies and procedures for Army Sustainment Command staff and subordinate units that provide global logistics, supply and service support for the Army in peace, crisis, war and stability operations. Establish, analyze, synchronize and monitor equipment management, facility engineering requirements, supply and maintenance compliance procedures, stationing, logistics and operational plans.

DEPARTMENT OF DEFENSE
U.S. Navy
NAVAIR provides materiel support for aircraft and airborne weapon systems for the United States Navy. They deliver timely, effective and sustainable naval aviation capabilities to ensure the warfighter's mission success and safe return home.

NAVSEA designs, builds, delivers, and maintains ships, submarines, and systems reliably, on-time, and on-cost for the United States Navy.

As the Navy's information warfare systems command, NAVWAR is the Navy acquisition command that develops, delivers and sustains communications and information warfare capabilities for warfighters, keeping them securely connected anytime, anywhere.

Naval Medical Center San Diego (NMCSD)
Naval Medical Center Portsmouth (NMCP)
Naval Hospital Jacksonville (NHJAX)
Naval Medical Research Center (NMRC)
Naval Medical Research Unit (NAMRU)
Naval Health Research Center (NHRC)
Navy Refractive Surgery Center (NRSC)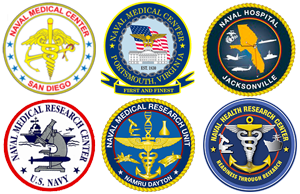 Navy and Marine Corps Spectrum Center (NMSC)
NMSC is the designated Navy and Marine Corps Center of Excellence for radio frequency and spectrum management.

Fleet Electronic Warfare Center (FEWC)
The Fleet Electronic Warfare Center is the center for US Navy fleet electronic warfare (EW) operational and tactical issues.

DEPARTMENT OF DEFENSE
Joint Improvised Threat Defeat Organization
Joint Improvised-Threat Defeat Organization (JIDO)
JIDO tackles the evolving problem of improvised threats in a three-pronged approach designed to create a 360-degree counter-IED support system for the warfighter by developing tools to defeat IEDs, train the warfighter to defeat IEDs, and collect and analyze operational data.

DEPARTMENT OF DEFENSE
Joint Chiefs of Staff
JID is the sole DoD provider of joint interoperability training and Joint Interface Control Officer (JICO) production. JID trains CCMD, Services, and partner nations' operations center personnel in mission areas such as joint fires, net enabled weapons (NEW), remotely piloted aircraft, integrated air and missile defense, and contested operations including secure internet with Link 16/tactical data link (TDL)-equipped major weapon systems and smart bombs.

DEPARTMENT OF DEFENSE
U.S. Missile Defense Agency
C2BMC is the integrating element of the Ballistic Missile Defense System (BMDS). It is a vital operational system that enables the U.S. president, secretary of defense and combatant commanders at strategic, regional and operational levels to systematically plan ballistic missile defense operations, to collectively see the battle develop, and to dynamically manage designated networked sensors and weapons systems to achieve global and regional mission objectives.

DEPARTMENT OF HOMELAND SECURITY
U.S. Coast Guard
USCG Spectrum Management
The U.S. Coast Guard is America's maritime first responder. Odyssey supports USCG spectrum management efforts.

National Laboratories / FFRDCS
Los Alamos National Laboratory's mission is to solve national security challenges through scientific excellence.

A Massachusetts-based FFRDC that researches and develops advanced technologies to meet critical national security needs.
Medical Research Organizations
Walter Reed Army Institute of Research (WRAIR)
WRAIR aims to conduct biomedical research that is responsive to Department of Defense and U.S. Army requirements and delivers life-saving products including knowledge, technology and medical material that sustain the combat effectiveness of the Warfighter.

Naval Medical Center San Diego (NMCSD)
Our NMCSD Clinical Research Associates (CRAs) support cradle-to-grave Institutional Review Board (IRB) administration of protocols involving human subjects for the Clinical Investigation Department (CID). With their in-depth knowledge of regulatory processes, they assist Principal Investigators with IRB submissions, recruiting and consenting of subjects, maintaining regulatory documentation, and collecting data for analysis. We also provide graduate medical education assistance and the services of a Clinical Research Pharmacist to support research investigators, other research assistants, or nurse researchers in the performance of complex research and experimentation.

Naval Medical Center Portsmouth / Naval Hospital Jacksonville (NMCP/NHJAX)
Our Clinical Research Coordinators (CRCs), with the support of a Protocol Developer, Nurse and Assurance Specialist, provide research support services to the Clinical Investigation Department (CID) focusing on Graduate Medical Education Program relevant biomedical research in general surgery, psychology, otolaryngology, pediatrics, nursing research, orthopedics, women's health, and emergency medicine.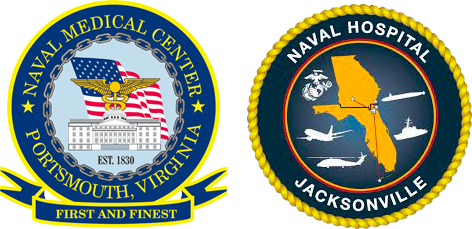 Naval Medical Research Center (NMRC)
NMRC's mission is to conduct research, development, tests and evaluations to enhance the health, safety and readiness of Navy and Marine Corps personnel in the effective performance of peace time and contingency missions and to perform other functions as directed by higher authority.

Naval Medical Research Unit – Dayton (NAMRU-D)
A major DoD medical research command and the home of the Naval Aerospace Medical Research Laboratory and the Environmental Health Effects Laboratory. NAMRU-D's mission is to maximize warfighter performance and survivability through world-class aeromedical and environmental health research by delivering solutions to the field, the Fleet, and for the future.

Naval Health Research Center (NHRC)
NHRC science spans the spectrum from physical readiness to joint medical planning, to wounded warrior recovery and behavioral health needs, all focusing on the health, readiness, and well-being of our nation's military members and their families. NHRC focuses on research that is operationally relevant and driven by fleet requirements. Core research areas include Operational Readiness and Health, Military Population Health, and Operational Infectious Diseases.

Navy Refractive Surgery Center (NRSC)
NTSC delivers ophthalmic research services to support various research projects focused on state-of-the-art surgical vision correction for active duty Navy and Marine Corps personnel.