Tell us what you think…
For a quarter of a century, Odyssey Systems has served our nation as a "Trusted Partner to Help Solve Complex Mission Challenges." Twenty-five years of dedicating professional services as a leading provider of management, analytical, and technical support services for Government and private-sector customers. For 16 of those 25 years, Odyssey has provided consistent, exceptional advisory and assistance (A&AS) support services to the USAF and USSF Strategic Warning and Surveillance Systems (SW&SS) Directorate.
Over the course of those 16 years, Odyssey was a key contributor and first-hand witness to our valued customer's strategic evolution from Electronic Systems Center (ESC), to Air Force Life Cycle Management Center (AFLCMC) to Space Systems Command (SSC), numbered to lettered organizations, yet ever maintaining focus on the critical mission areas regardless of the flag under which we continuously and consistently serve.
For the first 13 years of our support to SW&SS, Odyssey supported the organization through the Professional Acquisition Support Services (PASS) contract vehicles. Our highly skilled, experienced program managers, data managers, contract and administrative support professionals provided outstanding support to the modernization and sustainment of global ground-based radars and command and control systems that execute critical missile warning, missile defense, space situational awareness and command and control missions. As our customer shifted their focus to matured critical systems, Odyssey's support focus expanded. Our proven, outstanding performance earned Odyssey an award of the Engineering, Professional, and Administrative Support Services (EPASS) contract in 2018, through which we provide our continued support today. EPASS combined professional management services with engineering and technical support specialties into a single contractor workforce, enabling Odyssey to provide full-scale cradle to grave systematic management and technical support solutions to SSC SW&SS Directorate (SSC/ECQ) systems.
Among the most critical programs our team supports, SSC/ECQ sustains and modernizes ground-based strategic defense radars (GBSDRs) and Integrated Tactical Warning/Attack Assessment (ITW/AA) C2 systems that play a vital role in warning senior defense leaders, NORAD, and Combatant Commands (CCMDs) of potential air, missile, and space attacks against the United States and its allies. The NCMC-ITW/AA C2 system includes air, missile, legacy space C2, and communications processing systems to support missions conducted at the NORAD-USNORTHCOM Command Center, NORAD Cheyenne Mountain Complex, Alternate Missile Warning Center, Joint Space Operations Center and many Forward Users.
The GBSDRs that act as the eyes and ears of the Strategic Warning and Surveillance Network include: Perimeter Acquisition Radar Attack Characterization (PARC) Radar located at Cavalier Air Force Station, North Dakota, and five upgraded early warning missile warning/defense radars. The COBRA DANE missile defense radar provides ballistic missile tracking data to the Ground-Based Midcourse Defense Fire Control Center. All seven GBSDRs provide critical space surveillance observations to the Space Surveillance Network.
SSC/ECQ also sustains and modernizes Shared Early Warning Systems which provide near-real-time early warning of theater ballistic missiles to multiple foreign partners and CCMDs in support of numerous Foreign Military Sales cases.
For the Missile Defense Agency, SSC/ECQ acquires new capabilities via the Upgraded Early Warning Radar and COBRA DANE programs to enhance the PAVE PAWS radars in support of the missile defense mission.
Under the ECQ EPASS contract, we have seen our workforce double in numbers, and we now provide the service of a 210 full- time equivalent workforce. This cadre of talented professionals represents more than 50% of the SW&SS Directorate total manpower.
Many in our current workforce have witnessed and personally contributed to the evolution of critical ground-based radar and command and control systems as they were originally delivered, to their now greatly expanded capability and applicability to today's fight and protection of the US and our allies. The modernization of critical capability ensures systems remain suitable and relevant for their mission to detect ballistic missile attacks, conduct space surveillance and satellite tracking, but also with forward looking vision. We continue to maintain a pulse on today's threats and roadmap to defend against tomorrow's. Our team moved forward to resource ECQ's establishment of a 'Tombstone' team and capability to modernize modeling and simulation scenarios for missile warning radars. We focused on data utilization, employing use of data science, enabling discovery of new data elements supporting predictive failures and enabling decisions to mitigate system downtime. Odyssey is employing ways to restore Government ownership and control of their technical baselines, employing model-based systems engineering, and with applied energy toward rapid fielding on a repeatable cadence, we have enriched the team with agile methodologies being applied to deliver capability quickly.
Odyssey prides itself in our incredible talented employees as well as the strong partnerships we build with our Government partners in a "One Team-One Fight" approach. Our customer clearly sees the value in our contributions, lauding our critical role to their successes, "the Odyssey EPASS team was a key contributor to the Strategic Warning and Space Surveillance Product Offices prestigious recognition, earning the Dr. James G. Roche Product Support Excellence award for 2020. Odyssey helped the Division demonstrate remarkable product support."
Odyssey is tremendously proud of the devotion demonstrated each and every day in support of the defense of our national security, and the remarkable partnership we illustrate with the USAF and USSF through our contracted support efforts, such as ECQ EPASS. While Odyssey Systems Consulting Group celebrates 25 years in service to others, we applaud our ECQ team for their dedication, pride and performance, and for being such an integral part of our company's strong and rich history.
Coming this Spring!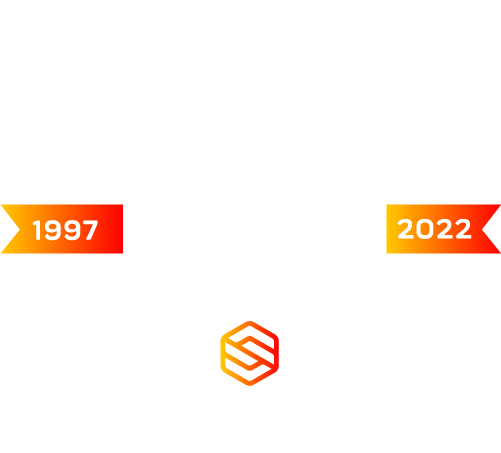 We will be celebrating our 25th Anniversary at all major Odyssey locations (Wakefield, Colorado Springs, Beavercreek, Fairfax/Silver Spring, Norfolk/Newport News, San Diego, Niceville). Keep your eye out for dates and details! (For those of you who aren't at a major location, we haven't forgotten you! More details to come!)
Are you interested in helping the anniversary planning team? Do you have a great idea to help us celebrate 25 years of success? We'd love to hear from you. Contact Catherine Emond to be a part of what makes our company special.